The Seed: Past, Present, and Future
Thursday, September 14 to Sunday, September 17
SMU-in-Taos at Fort Burgwin Taos, NM
The Taos chapter is excited to be hosting their third state conference since the chapter was created in 1999.  Local historic sites, such as the Taos Pueblo and the church of San Francisco de Asis, stay the same, but there have been some changes:  Taos is becoming as well known for its music scene as its art, and we are proud to have in our backyard the second newest National Monument in New Mexico – the Rio Grande del Norte.  Several of the offered field trips will take you onto monument lands.
Last year, as we were pondering a theme while considering locations for the conference, a botanist friend recommended a recent book by Thor Hanson: The Triumph of Seeds: how grains, nuts, kernels, pulses and pips conquered the plant kingdom and shaped human history.  Reading that book gave us an "Ah-ha" moment.  Given that our favored location wasn't available until mid-September when the most dominant feature of our native plants is the seed phase, we chose as our theme The Seed:  Past, Present, and Future.  We contacted Dr. Hanson, and are pleased to announce that he has agreed to come to Taos and be our Friday morning keynote speaker!
Following that theme, we will examine seeds through archeological, botanical, and cultural lenses in the context of the history and three cultures of northern New Mexico.  Our program comprises speaker presentations all day Friday and Saturday afternoon with workshops, field trips, and hikes offered on Thursday afternoon as well as Saturday and Sunday mornings.  In addition, the Taos Chapter invites you to a reception early Friday evening at the Millicent Rogers Museum where we have planted native gardens. Wine, beer, soft drinks, and light appetizers will be served, but we hope you'll then dine at one of several fine restaurants in Taos.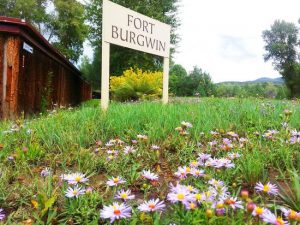 We are fortunate to have procured a quiet, wooded location for our conference. The Fort Burgwin campus of SMU-in-Taos is located about eight miles south of Taos at 7500' within the Carson National Forest.  An academic center for Southern Methodist University, it has become popular in recent years for retreats and conferences.  It lies near two streams and is close to six plant life zones and across the street from the archaeological study site of Pot Creek Pueblo.  You can walk the nature trails anytime and learn more about the history of Pot Creek and the fort, as well as the area vegetation, during a few of our field trips. If you seek peace and quiet, some housing is available on the campus (information will be available on the Conference website in early April).
The campus facilities at our disposal include the auditorium, a dining hall, classrooms, an art barn, and the Miller Campus Center where we'll hold our silent auction.  There are shaded outdoor decks for relaxing and communing with nature or your fellow Native Planters.  The Taos restaurant-trained chef and her staff at Fort Burgwin are proud of their organic, locally-sourced food (all made in-house) with an emphasis on local specialties such as mango chicken enchiladas and green chili posole. You won't want to miss their homemade soups and desserts. Dietary restrictions will be happily accommodated.  Snacks and two lunches are included in the registration fee.  Saturday night's banquet is offered at $25, with a cash bar offering adult beverages.
---
Registration Is Closed
Due to high demand, we have closed full conference registration. You can still attend the three formal presentations (Friday morning, Friday afternoon, Saturday afternoon/evening) for a flat fee--no meals or field trips can be included.  See the program schedule link below.
$10 for one session
$15 for two (example:  all day 
Friday
)
$25 for all three sessions
- admission to the 
Saturday
 evening 
8 pm
 talk by Dr. Larry Torres is included for any price paid.
Fees are paid at the door on day of presentation.
Invitation to Members to make Presentations on Saturday Sept. 16.
In addition to our stellar speakers, we have reserved time on Saturday afternoon just for members. The Planning Committee encourages you to submit a proposal for an illustrated talk you would like to present.
Proposal Guidelines
Talks should be planned to last no longer than 15 minutes
Your topic can be anything related to New Mexico native plants
Provide a title for your proposed presentation
Describe your proposed presentation in a paragraph
If you require anything other than standard A-V equipment, please note that
Include your
name
email address
telephone number
Send your proposal by email to: taosnps@gmail.com
Submit by July 15, 2017
Only three presenters will be selected. You will be notified as soon as the committee has made its decision.
Silent Auction
A silent auction has become a traditional highlight of each year's NPSNM state conference. The Taos chapter invites your donation of items that might be of interest to other members. For more information or to offer one of your invaluables, please contact Jan Martenson,  taosnps@gmail.com or call 575-751-0511