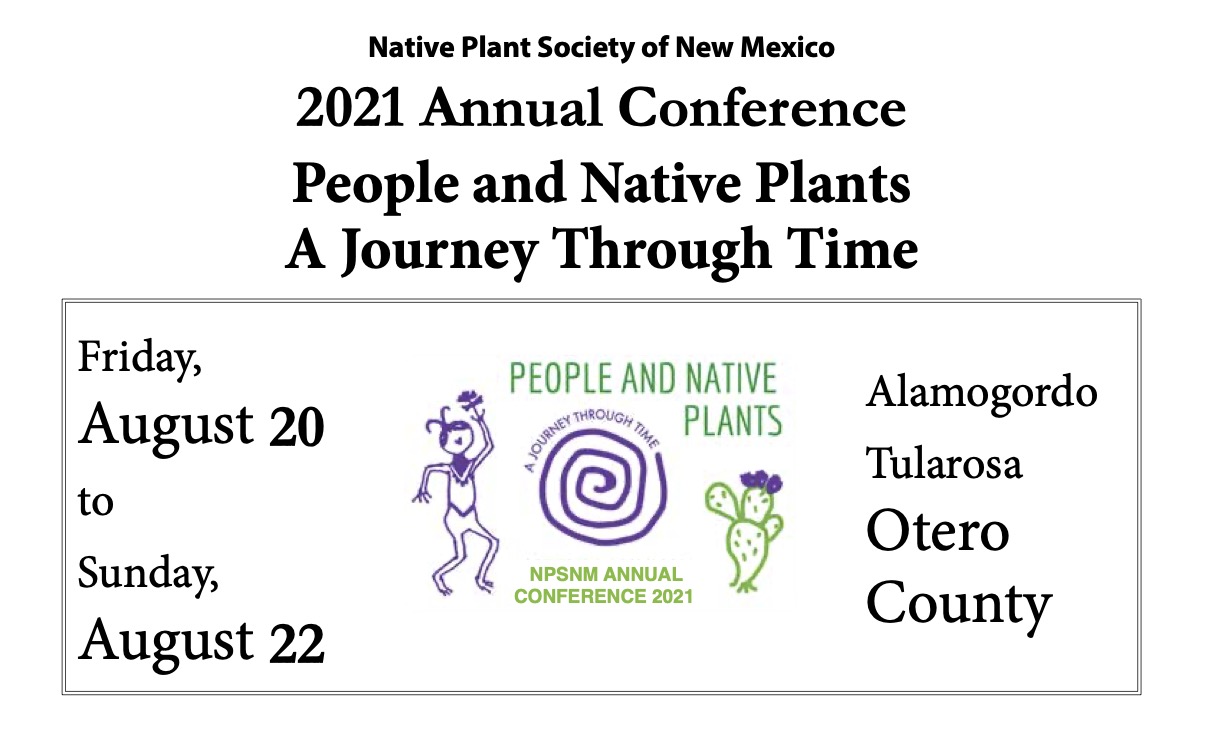 Online Registration is Here!  

.
---
On or before July 26th: Members: $100; Non-Members: $130
   After July 26th: Members: $115; Non-Members: $145
Saturday banquet: $30
Online registration includes the option to pay with credit card or to send a check.
We are very grateful to those who registered for the 2020 conference and that most of you have decided to retain a credit to be applied to the 2021 conference.
Our Otero chapter
put together a wonderful conference for August, 2020, and regretfully had to postpone it until 2021 because of the COVID-19 pandemic. But...
...their diligent efforts will not be wasted. New dates are set, the theme remains the same. We look forward to having you join us on our Journey Through Time!
Presentations, field trips and workshops over the three-day conference will support our theme of "A Journey Through Time" by highlighting the rich history of both the people and the native plants throughout the Tularosa Basin and surrounding ranges. Speakers, workshops, and field trips will be presented in chronological order to reveal the interwoven story of people and native plants in this fragile and fascinating Chihuahuan Desert region.
If you are planning to attend the conference in person, we ask that you please provide us with your vaccine status so that we can be sure to arrange the physical layout of the sessions and activities to be in compliance with the current CDC guidelines at the time of the conference. All CDC guidelines and state mandates will be observed.
Conference Location: Registration and presentations will take place in the Sgt. Willie Estrada Memorial Civic Center in Alamogordo, NM. All presentations will be available virtually as well, except for field trips.
Silent Auction
A silent auction has become a traditional highlight of each year's NPSNM state conference. The Otero chapter invites you to donate items that might be of interest to other members.
To offer an item, please contact Kathy Fuller:
kfuller5520 [at] gmail [dot] com
Accommodations:
Magnuson by Desert Aire, 1021 S White Sands Blvd, Alamogordo, NM 88310. 575-437-2110. Special Advance Rates to all State Conference attendees. Guests must declare all pets at check-in ($15/pet; 2 pets). Full hot breakfast, large outdoor pool, WIFI, room microwave and fridge. Promo code "State Conference 2021".
Holiday Inn Express and Suites, 100 Kerry Ave, Alamogordo, NM 88310. 575-434-9773 Special rates available. Two Queen beds or one King bed. Hot/cold breakfast, swimming pool, hot tub, exercise room and room work area, Keurig coffee maker, fridge and microwave. Promo code "State Conference 2021".