Chapters of the Native Plant Society of New Mexico put on great workshops from time to time. The one featured below filled up quickly, but you may want to do something similar with your Native Plant Society Chapter on this or other subjects oriented to native plants.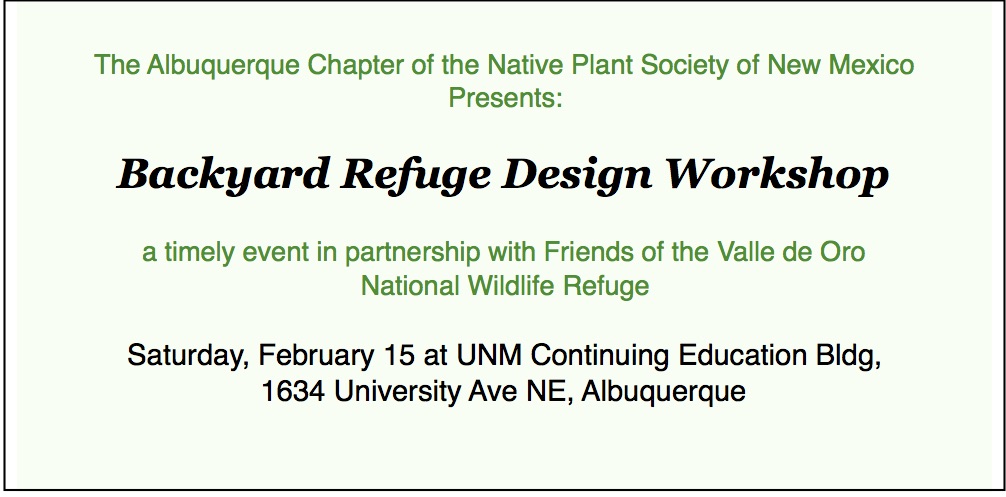 Learn from experts about using native plants, attracting birds, butterflies, bees and other pollinators, and how you can contribute to the wellbeing of our human environment by making space for nature, step by step. Everyone will receive helpful materials and access to online resources. The optional, hands-on Design Lab described below is no longer available. However, registration for the basic workshop has reopened by popular demand for a few days with the original fee of $35.
Instructors
Aryn LaBrake, Friends of Valle de Oro
George Miller, author of "Landscaping with Native Plants of the Southwest"
Maria Thomas and Alicia Freeman, Rio Grande BioPark Gardens
Judith Phillips, author and landscape designer
Plus additional professional landscaping coaches
Saturday, February 15 Schedule
Check-in opens 8:15 a.m. Morning sessions begin 8:45
Valle de Oro's "ABQ Backyard Refuge Program "
"Backyard Habitat Essentials"
"Plants that Attract Birds, Bees, Butterflies"
Lunch (on your own) 12:15 - 1:30
Afternoon sessions from 1:30
"Basic Steps to Design Your Backyard Refuge"
Optional: Backyard Habitat Design Lab: One-on-one design work wth landscape coaches 2:15 - 4:30
Coffee and light snacks provided. Lunch is on your own -- many nearby restaurants or bring provisions.
This popular workshop filled up quickly, and checks coming in late will be returned.
You may still download helpful materials associated with this workshop for free from the 

Friends of the Valle de Oro NWR website

.
You do not have to log in, but do consider becoming a "Friend" of Valle de Oro.  They are interested in where you are planning to create your refuge and what types of folks are participating, so they ask a few easy questions before you can download a very comprehensive booklet and a regionally appropriate plant list.