Chapters of the Native Plant Society of New Mexico put on workshops annually. Consider the one featured below, and stay tuned for other upcoming workshops!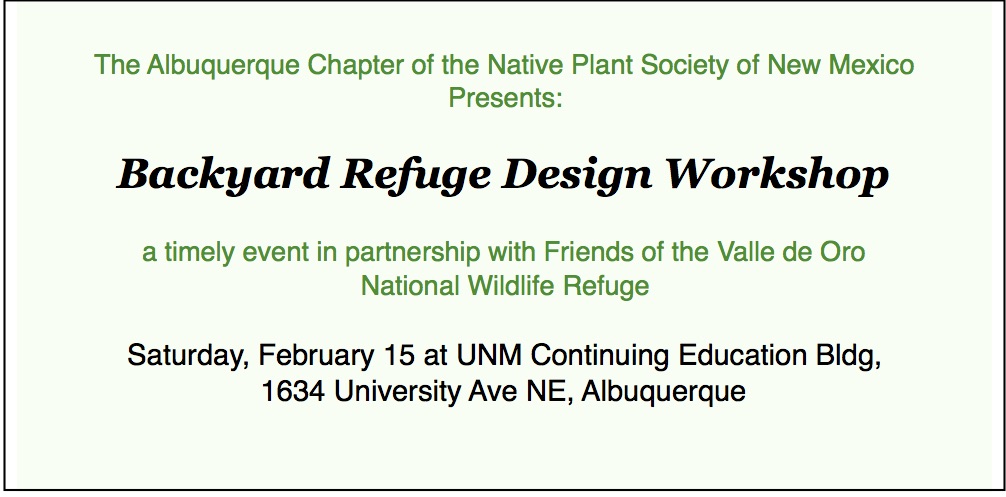 Learn from experts about using native plants, attracting birds, butterflies, bees and other pollinators, and how you can contribute to the wellbeing of our human environment by making space for nature, step by step. Everyone will receive helpful materials and access to online resources. Registration for the basic refuge design workshop is $35. The optional, hands-on Design Lab described below is not available at present!
Instructors
Aryn LaBrake, Friends of Valle de Oro
George Miller, author of "Landscaping with Native Plants of the Southwest"
Maria Thomas and Alicia Freeman, Rio Grande BioPark Gardens
Judith Phillips, author and landscape designer
Plus additional professional landscaping coaches
Saturday, February 15 Schedule
Check-in opens 8:15 a.m. Morning sessions begin 8:45
Valle de Oro's "ABQ Backyard Refuge Program "
"Backyard Habitat Essentials"
"Plants that Attract Birds, Bees, Butterflies"
Lunch (on your own) 12:15 - 1:30
Afternoon sessions from 1:30
"Basic Steps to Design Your Backyard Refuge"
Optional: Backyard Habitat Design Lab: One-on-one design work wth landscape coaches 2:15 - 4:30
Coffee and light snacks provided. Lunch is on your own -- many nearby restaurants or bring provisions.
The optional design lab, limited to 30 participants, has filled quickly and we are reserving a few spots for scholarship recipients. If you have not already registered for it, please continue to sign up for the basic workshop we are sure you will enjoy and set you on your way to establishing a backyard refuge. Should lab spaces open up again, we will contact the next registrants in the order they were received to offer them the lab.
To register by mail and sending a check, download the mail-in form and postmark by February 1. Do not sign up for the optional design lab using the form, only the learning workshop.
Register online with a credit card by February 7, via this link.