Welcome to the Gila (Silver City) Chapter
The Gila Native Plant Society is committed to promoting education, research, and appreciation of the native flora of the Southwest; encouraging the preservation of rare and endangered plant species; and supporting the use of suitable native plants in landscaping. We hope that you will find our website a favorite resource to help you enjoy the beauty and value of the native flora here.
Meetings are third Fridays at 7 p.m. at WNMU's Harlan Hall, Room 219, with refreshments following the program.
All programs are free and open to the public. The Gila chapter conducts field trips on the third Sunday of each month from April to September. Each field trip will be to a different location in order to explore the diversity of our native plants. Field trips are free and open to the public. Meet at 8:00 am in the south parking lot of the WNMU Fine Arts Center Theatre for carpooling.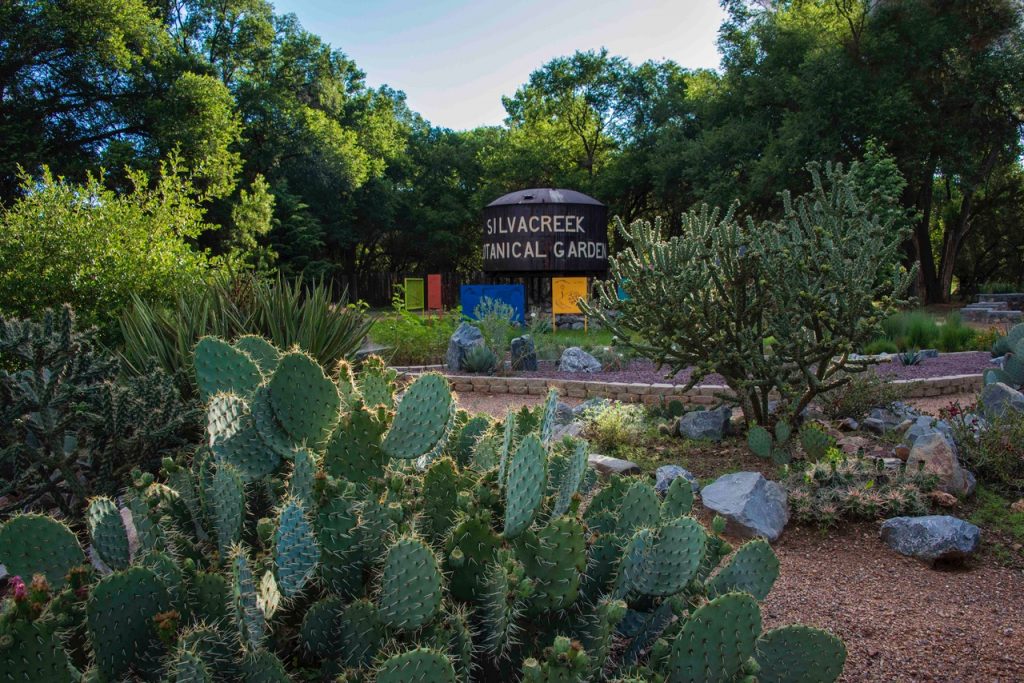 Photo: Silver City Botanical Garden by Elroy Limmer
Upcoming Gila Events
02

Aug, 19

83 A Van Nu Po, Santa Fe, NM 87508
The Gila chapter is participating in the Give Grandly! Give Local! Non-Profit Fair again this year. Give Grandly is an annual, 24-hour community fund-raising marathon for non-profits in Grant and neighboring counties. It's sponsored by the Grant County Community Foundation and the Southwest New Mexico Non-Profit Coalition representing 50+ nonprofits—including the Gila Native Plant Society.
The Give Grandly! Give Local! non-profit fair will be held on 8th Street off Bullard, next to the Silver City Farmers' Market on the Market's opening day—Saturday, May 11, 2019—from 8:30 am to 2:30 pm. Participating non-profits—that includes GNPS—will have tables with staff or volunteers to explain what they do for the community and accept cash and check donations. And anyone anywhere will be able to donate via www.givegrandly.org.
There will be great musical entertainment and good food—lots of it!—hot food by the Duckstop, cold treats by Mint Chip and many more goodies donated by local restaurants. If you are in town, come on down to 8th and Bullard, enjoy the festivities, visit the Farmers' Market, come by our table and say hi, and donate if the spirit moves.
Or contribute by check any time now by postdating the check to May 11, 2019. Starting May 4 through May 11 you will be able to contribute online by credit card at www.givegrandly.org—your contribution will not be charged until May 11. Why May 11th? Contributions to us received on that day will count towards matching funds. When we reach $250 in donations, Give Grandly sponsors will match that amount.
Since the Gila Native Plant Society, as a chapter of the Native Plant Society of New Mexico, counts as a 501(c)(3) non-profit organization, all donations to the Gila Native Plant Society are tax-deductible. Donations of any size are appreciated. GNPS will use the donations from the Give Grandly event to fund grants for worthwhile native-plant projects and scholarships to deserving students in the natural sciences.
Gila Native Plant Society
P.O. Box 457
Silver City, NM 88062
Chapter Officers
President: Donald Graves
Vice President: William Norris
Treasurer: Wendy Graves
Secretary: Jane Spinti
Membership: Joan Limmer
Past President: Elroy Limmer
Member Communications: Helen Shoup
Publicity Coordinator: Betty Spence
Field Trip Chair: Hannah Blood
Education Committee Chair: Jeff Boyd
Conservation Chair: to be appointed
State Board Representative: Keller Suberkropp
Newsletter: Helen Shoup
Plant Sale: Keller Suberkropp
Book Sales: Ron Groves
Past President: Ron Groves
Banner photo by Randal Pair; small inset photos courtesy of the WNMU Dale A. Zimmerman Herbarium.