Welcome to the Gila (Silver City) Chapter
The Gila Native Plant Society is committed to promoting education, research, and appreciation of the native flora of the Southwest; encouraging the preservation of rare and endangered plant species; and supporting the use of suitable native plants in landscaping. We hope that you will find our website a favorite resource to help you enjoy the beauty and value of the native flora here.
Meetings are third Fridays October-May at 7 p.m. in WNMU's Harlan Hall, Room 219, with refreshments following the program.
All programs are free and open to the public. The Gila chapter conducts field trips on the third Sunday of each month from April to September. Each field trip will be to a different location in order to explore the diversity of our native plants. Field trips are free and open to the public. Meet at 8:00 am in the south parking lot of the WNMU Fine Arts Center Theatre for carpooling.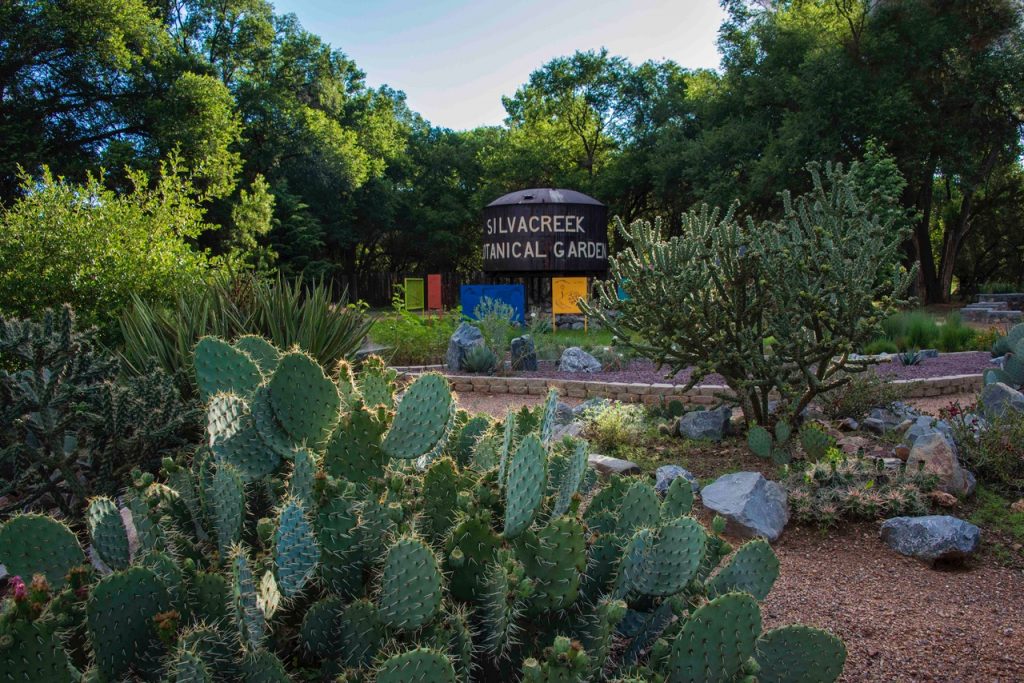 Photo: Silver City Botanical Garden by Elroy Limmer
Calendar notice for Gila Native Plant Society field trip on Sunday July 21, 2019
The Gila Native Plant Society continues its program of monthly field trips with a visit to the Pinos Altos Range. Our field trip leader, Hanna Blood, will lead the group up a spur off Signal Peak Road. The dirt track travels up an incline through the Ponderosa and Gamble Oak forest (the way back is downhill) to a cold sink where we will find a meadow filled with Rocky Mountain Iris (Iris missouriensis), and where New Mexico Checker Mallow (Sidalcea neomexicana) and Stiff Blue-Eyed Grass Sisyrinchium demissium) are growing side by side. If we get lucky St. John's Wort (Hypericum scouleri) may make an appearance. For those who are new to the native plants of our area, or just new to botany, during the outing Don Groves and Jane Spinti will provide an introduction to some of the basic aspects of plant identification.
Meet at 8 AM in the south parking lot of the WNMU Fine Arts Center Theatre for carpooling. All are welcome; GNPS field trips are free and open to the public. The hike is moderate, but temperatures now are hot. Be sure to wear a hat and sturdy shoes, bring plenty of water and perhaps a snack. Please be aware, during the summer months the field trip destination may have to be changed owing to fire or washed-out roads. For further information contact hannablood@gmail.com
Chapter Officers
President: Donald Graves
Vice President: William Norris
Treasurer: Wendy Graves
Secretary: Jane Spinti
Membership: Joan Limmer
Past President: Elroy Limmer
Member Communications: Helen Shoup
Publicity Coordinator: Betty Spence
Field Trip Chair: Hannah Blood
Education Committee Chair: Jeff Boyd
Conservation Chair: to be appointed
State Board Representative: Keller Suberkropp
Newsletter: Helen Shoup
Plant Sale: Keller Suberkropp
Book Sales: Ron Groves
Past President: Ron Groves
Banner photo by Randal Pair; small inset photos courtesy of the WNMU Dale A. Zimmerman Herbarium.