Trees and Shrubs of New Mexico
Jack L. Carter 2012. Revised and Expanded.
This book is now available through the Gila Chapter. To order go to Gila Chapter website:
Flowering Plants of New Mexico — 5th Edition

by Robert DeWitt Ivey
Flowering Plants of New Mexico by Robert DeWitt Ivey is without a doubt one of the most consulted references in the state for people interested in this state's native plants.  The first edition appeared in 1983.  Over the next 25 years four more editions appeared, culminating with the 5th edition in 2008.  Not too long ago, DeWitt told me that more than 10,000 copies had been sold over the years.  When he was 85, he told me that the 5th would be his last.  During his last years, he and I discussed the future of his important book.  He recognized the significance of his artistic abilities and scientific accuracy to both botanists and, more importantly, to those not interested in the intricacies of botanical science.  He also expressed his wish to leave a legacy for his wife Vivian.  He felt that it was important to keep his work alive.  We discussed the possibility of producing the book digitally.
My wife, Betty, and I recently completed the conversion of his book to digital format.  The 5th edition of Flowering Plants of New Mexico is now available at Lulu.com for $36.00 plus shipping.  When a book is ordered, it will be printed by Lulu within two or three days and then delivered via FedEx in about five days.
At DeWitt's request, all proceeds from the sale of this book will be directed to his wife.
–Gene Jercinovic, April 2014
Our Specialized Plant ID Booklets to view or download and print:
New Mexico Thistle Guide
by Bob Sivinski
Learn more and Download Here.
New Mexico Milkweeds
Marcia Corl, editor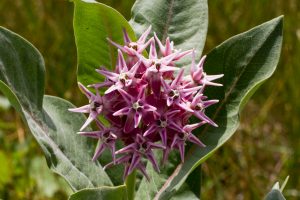 All species reported from or likely to exist in New Mexico, compiled by Marcia Corl of our Las Cruces chapter from public sources. 
NM Milkweeds Guide, view or download
Gardening Booklets and Literature:
Including the revised Central New Mexico Gardens and Native Plants for the Landscape in Santa Fe Co.