Native Plant Curriculum - From Ponderosa to Prickly Pear

"From Ponderosa to Prickly Pear: Exploring the Native Plants of New Mexico" was released in early 2017 and was compiled by staff from the Southwest Program office for the Institute for Applied Ecology in Santa Fe, NM. The first issue of 1,000 copies was printed using a grant from the Native Plant Society of New Mexico. This middle to high-school level eco-regional curriculum offers a complete study of native plants in the "Land of Enchantment" state.  The curriculum aligns with NPSNM's mission to promote the knowledge of plant identification and ecology and foster plant conservation and the preservation of natural habitats.
Classroom activities, debates, and lessons encourage students to explore what is outside their door and to journey through the flora, ecology, landscape management, and cultural plant relationships unique to New Mexico and the Southwest.
If you are interested in purchasing a printed copy of the curriculum you are welcome to do so here. The curriculum is also available for free in PDF form here.
A remedy for Plant Blindness and Nature Deficit Disorder in youth!
Shouldn't more teens be Forest Bound? Learn about this PLANT ECOLOGY TRAINING PROGRAM made possible by the US Forest Service and facilitated by the Institute for Applied Ecology. This program has been implemented in the Santa Fe and Cibola (Sandia District) National Forests.
Unfortunately, this program was not scheduled for 2021 due to the Covid-19 pandemic. Hopefully, it will return when the public health situation is remedied.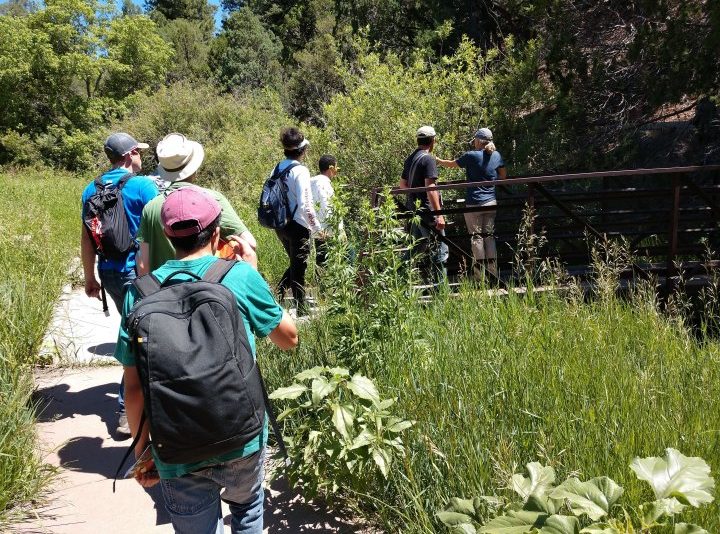 The botanical and ecological education of the community

is our primary focus as we offer regular, public presentations on many subjects, field trips, guest speakers, volunteer days, and workshops on plant identification and habitat gardening. Most of these programs are free and a lot of fun. Find the events close to you under Chapters on this website. Our state conference combines many of these elements in a very special weekend each summer. The conference does require paid registration.