PRESS RELEASE FROM NATIVE PLANT SOCIETY OF NEW MEXICO ALBUQUERQUE CHAPTER:
Governor Susanna Martinez has proclaimed Saturday, August 18, 2012 as this year's New Mexico Native Plant Day.  The day recognizes the importance that native plants and habitats play in supporting all wildlife and maintaining a healthy ecosystem in New Mexico, and it encourages the use of native plants in gardens and public spaces throughout Albuquerque and Bernalillo County.
To celebrate this event, the Albuquerque Chapter of the Native Plant Society of New Mexico (NPSNM) is sponsoring a tour of native plant gardens for area residents on August 18. The free self-guided tour of five gardens takes place from 9 a.m. to 12 noon, and this year all gardens are located in one Albuquerque neighborhood—the Ridgecrest District—to make it easy for people to visit them all in a short time.  Homeowners and/or Native Plant Society members will be available at each garden to answer questions.  Descriptions of each garden can be found at: https://www.npsnm.org/. (Scroll down in the left column and click on "Chapters: Albuquerque.") Tour maps will be available the day of the event beginning at 9 a.m. at Stop #1, 713 Sundown Place.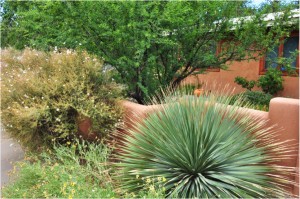 Native plants are naturally drought tolerant, save water once established, and enhance the "southwest look" of our local home gardens and public spaces.