On Wednesday September 7th at 7:00 p.m. at the NM Museum of Natural History (1801 Mountain Rd. NW, Albuquerque), the public is invited to a program focused on the wild orchids of Arizona and New Mexico. Ron Coleman, author and orchid researcher affiliated with the University of Arizona, will discuss all of the native orchids in Arizona and New Mexico, covering blooming season, habitat, and distribution. Several of these orchid species are found only in Arizona and New Mexico. The talk is based on his 2002 book,The Wild Orchids of Arizona and New Mexico.
Ronald A. Coleman is a student of the native orchids of the United States, specializing in the wild orchids of the Southwest. Ron is the author of over 40 orchid articles that have appeared in The Orchids, The Orchid Digest,Fremontia, Selbyana, and Madrano. Two wild orchid species are named after him, and he has described two new taxa.  He is also the author of The Wild Orchids of California, published in 1995 and The Wild Orchids of Arizona and New Mexico, published in 2002. He co-authored the orchid treatment in Arizona Rare Plant Field Guide prepared by the Arizona Rare Plant Committee, and was co-author of two orchid genus treatments in the Flora of North America, Vol 2, published in 2002. Ron wrote major portions of the orchid treatment for the new Jepson Manual Flora of California published in 2012.
A short chapter meeting precedes the talk.  Native plant books will be on display and available for purchase.  This free public program is sponsored by the Albuquerque Chapter, Native Plant Society of New Mexico.  More information about the organization is available at www.npsnm.org.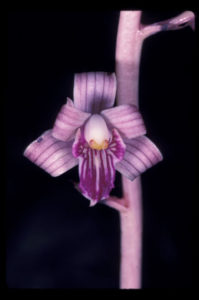 Photo credit: http://tucson.com/news/local/rare-orchid-found-at-rosemont-site-not-endangered-feds-say/article_80deeb4a-d9ec-52f7-b4ad-2ea0077a5562.html